The future of title search,
today.
Pippin delivers nationwide title search powered by advanced technology and exceptional service, for a seamless, satisfying experience every time.
LEARN MORE
ORDER A SEARCH
Let Pippin Title CEO, Bharat Das, tell you how we are bringing search into the digital age.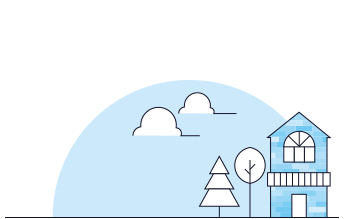 Residential
title search
Get the residential title search you need, anywhere in the country, fast: Current owner, two owner, full owner, foreclosure, and many more.
LEARN MORE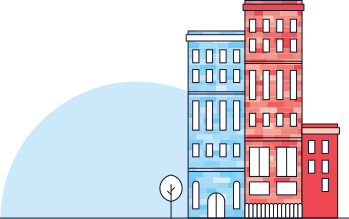 Commercial
title search
We've got your commercial title search needs covered, including cell tower, wind turbine, and agricultural.
LEARN MORE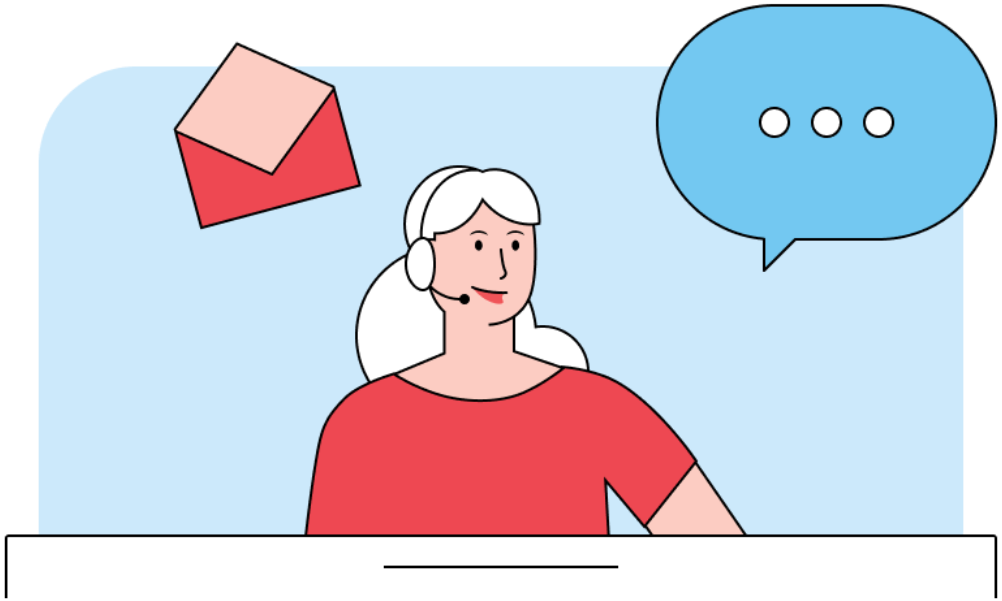 Live
chat
Online Live Chat for Customer Support
Anyone who has spent more than five minutes in the title industry is used to the following exchange with some of their title abstractors:
Send an email — no response.

Call them — reach voicemail.

Email again — still nothing.

Call again — voicemail is full.
Be in control of your title searches again. No more voicemails, no more ghosting, and no more frustration with our newest product release at Pippin Title: live chat. 
Now you can chat with our customer service team in real-time and within a minute, get a response. Yes, that's correct: a minute.
With our online live chat, you can get the information you need on title commitments immediately so you never have to say "I don't know" to your clients again. You'll be the expert whenever they, or your boss, ask the status of a title search. So give it a try – our customer service team is eagerly awaiting your message. 
And don't worry, we're still here to answer your calls and your emails. We're still tirelessly manning the messaging systems in our portal and on Qualia. At Pippin Title, we want to make it easy for you to reach us however you want to reach us: on the phone, in your inbox, via in-app messaging, and now through the live chat.
LEARN MORE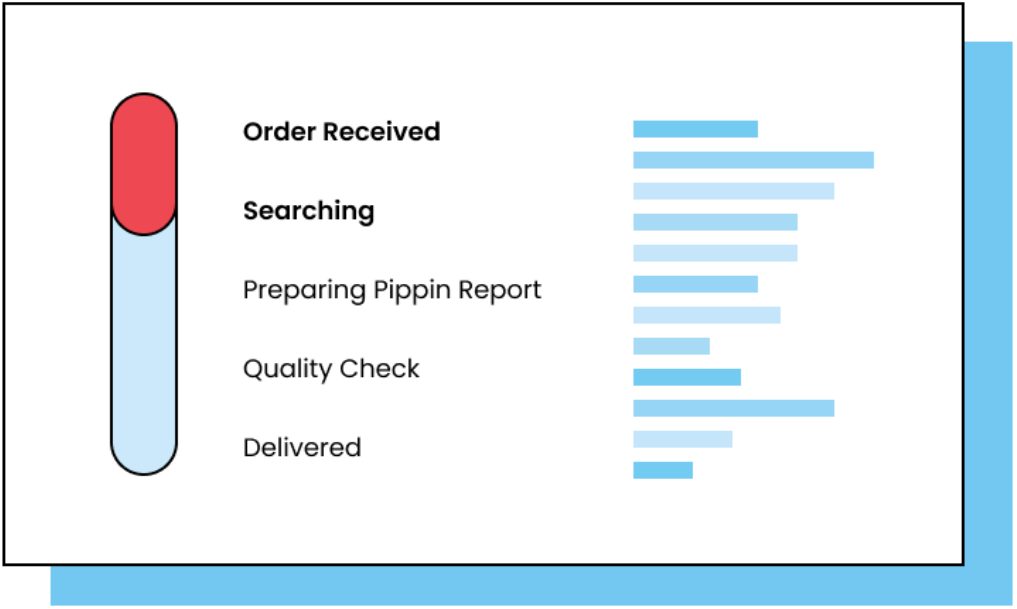 Order
tracking
Check Your Title Search Status in Real-Time
Whether you need residential or commercial title searches, our Dominos-style tracker lets you stay up to date with the status of your title searches in real-time. At Pippin Title, we pride ourselves on providing a seamless experience for our clients and removing all ambiguity around the title search process. With our tech-forward approach, we are raising the bar for everyone to provide fast, accurate, standardized, and cost-effective title searches.
Get started with our title search services today.
LEARN MORE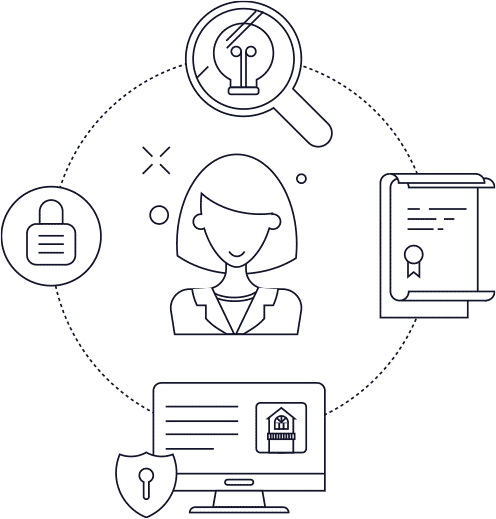 Standard, commitment-ready format reports nationwide. So you can sail through closings.
Coverage in every county. We have relationships with experienced ground searchers nationwide.
Real-time order tracking. You'll never be in the dark: Access the status of your order at any time.
Double-checked orders for higher accuracy. Our rigorous quality control means you can feel confident.
Lightning-fast service. We take the bottlenecks out of title search, for results in record time.
24/7 support from our dedicated team. We're eager to help if questions or problems arise.
What our customers are saying:
You guys are knocking it out of the ballpark. We haven't had to send anything back. Pippin is amazing at getting back to us if there are any problems. Their communication is awesome. We're just really pleased and wanted to let you know.
Katy M.
AVP – Title Operations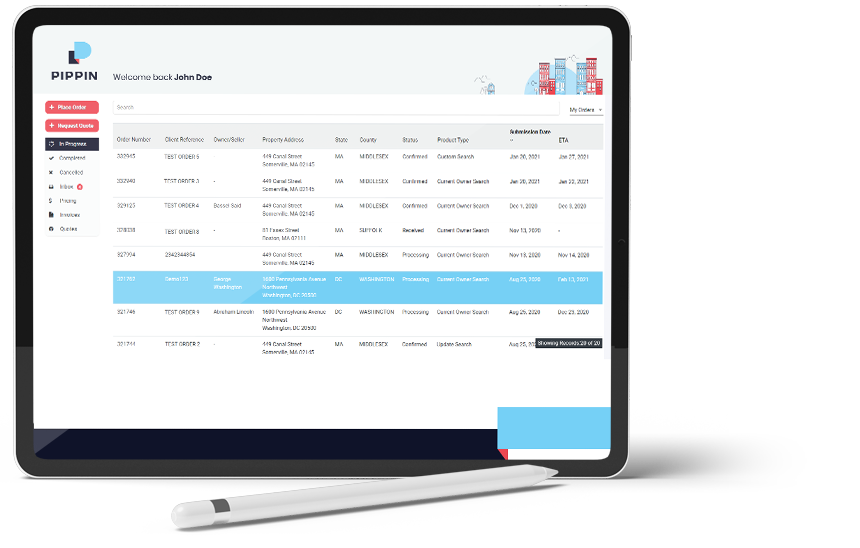 Start your next title search with Pippin.
Forget chasing after ground searchers and poring over documents. With our proprietary search technology, reliable searcher network, and rigorous quality control, you get accurate, commitment-ready reports every time – fast.
CONTACT A REPRESENTATIVE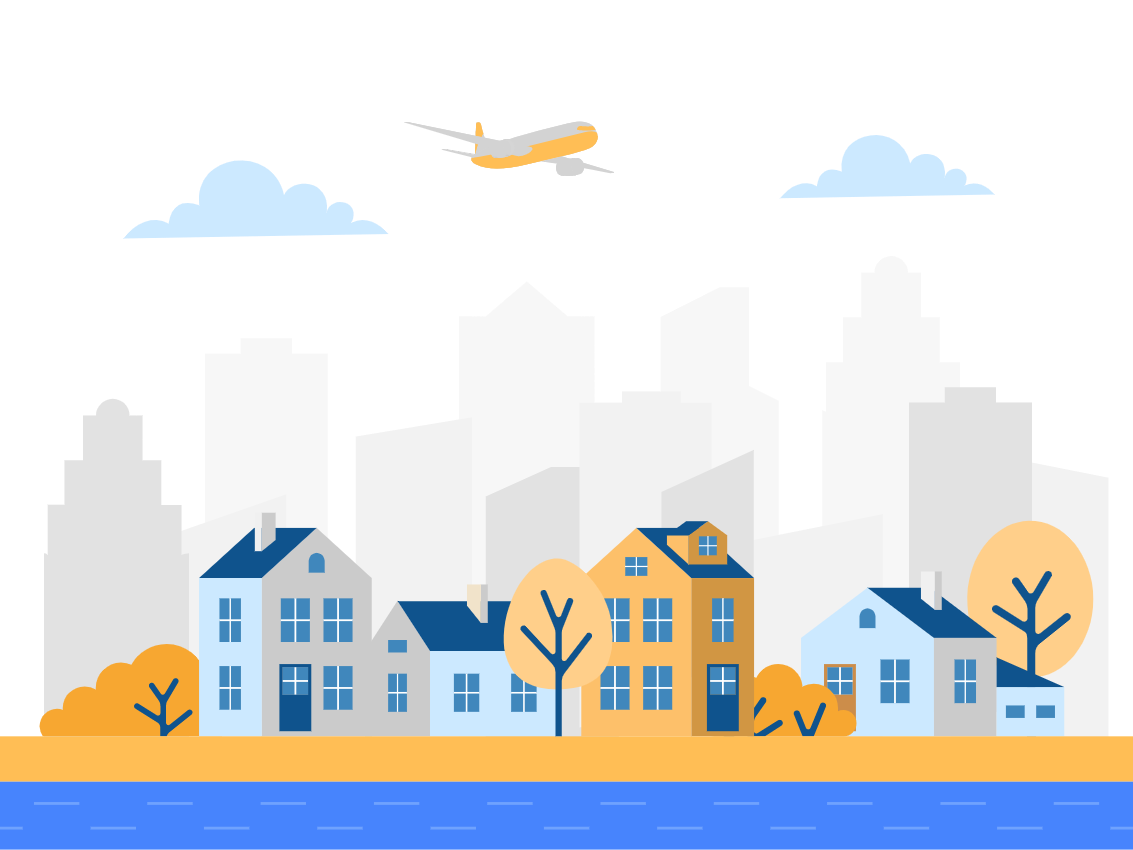 We know, there are a lot of title search companies on the internet. What makes Pippin different? It's simple: we're bringing title search into the 21st century.
For decades, managing title searches has presented a challenge for title insurance companies, lenders, and law firms. Some documents are online, while others must be retrieved in person. Because different vendors offer different variations of title reports, they can be hard to interpret. There's a lot of legwork involved in the title search process, but our founder knew there had to be a better way.
At Pippin, we've implemented proprietary title search technology and combined it with a network of the best title searchers in the business. We take the hassle out of title search by handling each step of the process so you don't have to. We work with title insurance companies, local governments, banks, and property developers across the United States, helping them get the title documents they need quickly and easily.
When you choose Pippin for your title search, you'll get fewer headaches and hassles, along with a more streamlined, predictable closing process.