Your title search ends here!
Residential and commercial title search made simple.

Let us do the heavy lifting of title search for you.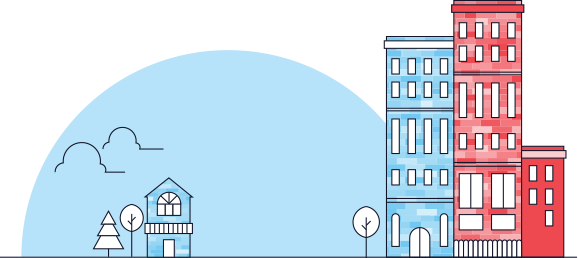 Pippin offers a full range of nationwide title search reports, brought to you with speed, accuracy and transparency at every step. When you choose Pippin for your search, you'll get:
A single, easy-to-use dashboard for ordering, tracking and invoicing that integrates seamlessly with your existing workflows.
Standard format, commitment-ready reports backed by rigorous quality control.
 Local expertise wherever you are, thanks to our 50-state network of ground searchers and robust search capabilities.
Around-the-clock support from our dedicated team.
Residential Search
Our residential title search services ensure that you'll close on time, every time. We offer current owner title search, two owner title search, full title search, and update title search, so no matter your needs, we've got you covered. When all is said and done, we'll deliver you a bulletproof, commitment-ready report.
RESIDENTIAL SEARCH DETAILS
Commercial Search
When it comes to commercial title search, you don't want to leave any stone unturned. That's why property owners and developers trust Pippin to perform title searches for their office buildings, cell towers, hotels, retail developments, wind turbines, agricultural land, and more. Let us give you the peace of mind of knowing that your next project is starting on solid ground.
COMMERCIAL SEARCH DETAILS
We're happy you're here. We're Pippin, and we're bringing title search into the 21st century. In the startup world, there are a lot of disruptors and game-changers, but if ever there was a game that needed changing, it's the title search process.
For far too long, managing title searches has been a frustrating process for title insurance companies, law firms, and banks. There are online documents and offline documents; different vendors, different variations of title reports. It's difficult to navigate without a helping hand, and that's where Pippin comes in. 
We asked ourselves, "Why isn't there a better way to do this?" and when we realized there wasn't, we got to work.
We've innovated advanced title search technology and put together a nationwide network of searchers to help title insurance companies, local governments, financial institutions, and property developers produce title documents quickly and easily anywhere in the United States, whether for residential or commercial purposes. 
The result? Fewer headaches and hassles, and best of all, a faster, more efficient closing process for our clients.
What our customers are saying:
You guys are knocking it out of the ballpark. We haven't had to send anything back. Pippin is amazing at getting back to us if there are any problems. Their communication is awesome. We're just really pleased and wanted to let you know.
Katy M.
AVP – Title Operations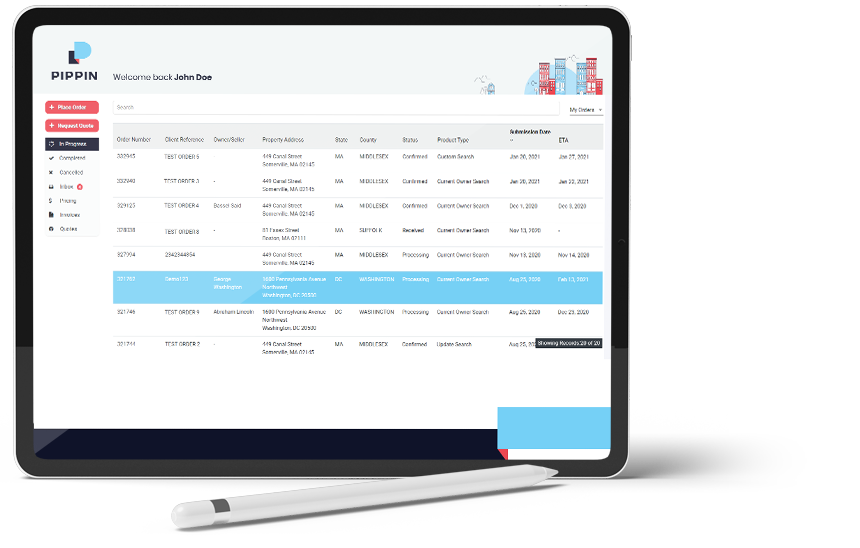 Start your next title search with Pippin.
Forget chasing after ground searchers and poring over documents. With our proprietary search technology, reliable searcher network, and rigorous quality control, you get accurate, commitment-ready reports every time—fast.
CONTACT A REPRESENTATIVE